a
Focus - Russia's 3K22 3M22 Zircon Missile
Analysis: 3K22 and 3M22 Zircon, the Next Generation Hypersonic Missile of the Russian Navy
Work to create the latest 3K-22 multi-service missile complex armed with Zircon (sometimes spelled Tsirkon) 3M-22 missiles and designed by NPO Mashinostroeniya Military-Industrial Corporation in the town of Reutov in Moscow region has been ongoing since 2011. The Military-Industrial Courier newspaper said the 3M-22 complex is armed with an anti-ship missile which is a continuation of heavy missiles Bazalt, Granit, and Onyx to destroy surface-going naval and ground targets at a distance of 300-400 kilometers.


According to rumors, the Indo-Russian BrahMos II hypersonic cruise missile (pictured here at Defexpo 2014) is the export variant of the Russian 3M22 Zircon missile.

Russian military experts say the Tsirkon missile is very difficult to intercept both for existing air defenses and perspective interceptors currently designed.

According to the annual report of the Detail design bureau in the Urals which is a part of the Tactical Missile Armaments Corporation and deals with altimeters, the detailed designs of two products - Tsirkon-S-ARK and Tsirkon-S-RV - were prepared, approved and delivered to the customer (NPO Mashinostroeniya) in 2011. The RV abbreviation likely means "altimeter" while ARK stands for "automatic radio complex".

In the same year Granit-Elektron which is the lead designer and producer of radio-electronic complexes for the Russian Navy reported about the creation of a detailed design of an automatic and inertial navigation system. In 2012 project documents were ready for it.


3M55 P-800 Oniks (Onyx) anti-ship missile (NATO reporting name: SS-N-26 Strobile)

Navy Recognition understands that early rumors indicate the Indo-Russian BrahMos II hypersonic cruise missile may be an export variant of the Zircon (just as the BrahMos missile share many similarities with the Russian P-800 Oniks missile).

The planned operational range of the BrahMos-II is about 300 kilometers and its speed is set to be around Mach 7 thanks to a ramjet engine.

Indo-Russian BrahMos II hypersonic cruise missile scale model on display at DEFEXPO 2016

The 2011 report of the Strela Production Amalgamation in Orenburg which is a part of NPO Mashinostroeniya and produces cruise anti-ship missiles including Onyx P-800 listed the creation of a technical base for new serial production also of Tsirkon missiles as a priority in the coming years.

The report of NPO Mashinostroeniya for 2012 said industrial design of a critical technology for the production of laser and optical-electronic systems for a complex of receiver-transmitter and computing tools was launched to target hyper and supersonic operational and tactical missiles.

The newspaper stressed that exactly at that time Tsirkon all of a sudden disappeared from all open publications. It is noteworthy that all items on the creation of a material and technical base for the production of the new missile were deleted from the 2012 report of Strela enterprise while several pages later the text openly mentioned the work and costs of project 4202.

Deputy Prime Minister Dmitry Rogozin announced the creation of a super holding on the basis of Tactical Missile Armaments Corporation and NPO Mashinostroeniya which will engage in hypersonic technology design. However the idea of such a large-scale hypersonic production amalgamation was later dropped. The task was assigned to NPO Mashinostroeniya and Dubna-based Raduga machinery design bureau which also produces air-based missiles known as Lopata or hypersonic experimental flying craft. However the enterprises did not merge and continued to operate independently along their guidelines.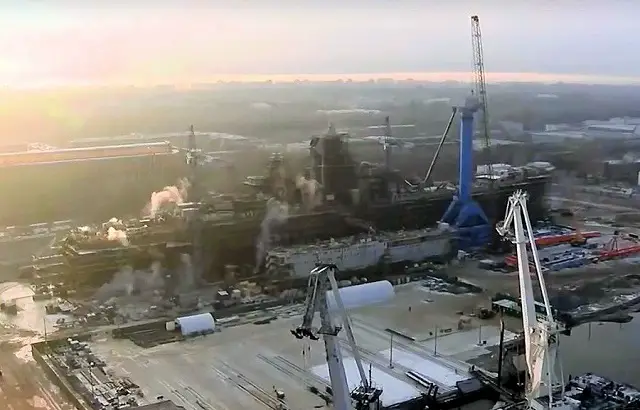 Admiral Nakhimov heavy nuclear-powered missile cruiser (TARKR) currently under refit at Sevmash shipyard in Severodvinsk.

In the summer of 2012 test trials of Tu-22M3 bomber armed with hypersonic air-based cruise missile were held at the State Flight and Research Center in Akhtubinsk. According to some reports, not all launches were successful but the work on the missile continued.

In September 2013 Head of the Tactical Missile Armaments Corporation Boris Obnosov said Russia was actively working on hypersonic missiles and a test product already existed. He said the missile is developing a speed of up to 4.5M but so far it was impossible to ensure a stable and long flight in such a regime.

The publication believes that as Tsirkon is mentioned in documents as a multi-purpose missile complex the tests in 2012-2013 dealt exactly with that missile and, according to Obnosov, had a partial success. The missile developed hypersonic speed but for a short time.

After 2013 the 3K-22 complex disappeared from all open sources but in the autumn of 2015 unexpectedly emerged in modernization project of Admiral Nakhimov cruiser of project 11442M.

According to an agreement between Sevmash enterprise in charge of refurbishing the cruiser and Almaz-Antei Company, the latter has to install ten universal vertical launchers 3S-14-11442M during maintenance and modernization of the heavy nuclear missile cruiser of project 11442.

The same document says the new launchers that can hold up to eight missiles can fire also Caliber and supersonic anti-ship 3M55 (P-800 Onyx) and 3K-22 (Tsirkon) missiles. The work is to be completed not later than 2018.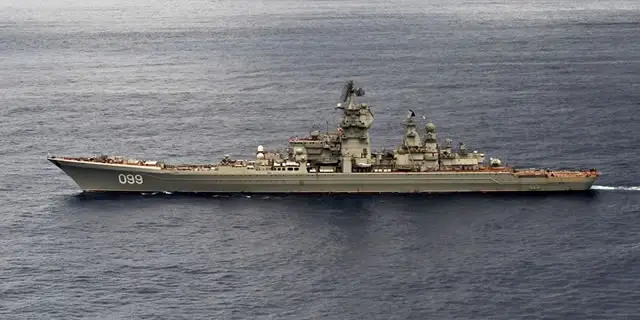 Pyotr Veliky (Peter the Great) heavy nuclear-powered missile cruiser (TARKR), the fourth Kirov class cruiser of the Russian Navy.

The preliminary cost is estimated at 2 billion 559 million rubles. The top price ceiling is 3 billion rubles. Almaz-Antei has to hand over to the customer the first of the ten launchers by August 2016. After acceptance by a special commission of shipbuilders, designers and producers of missile weapons from Novator enterprise (Caliber) and NPO Mashinostroeniya (Onyx and Tsirkon) the new missile will be designated by letter O. In case of successful completion of all works the remaining nine launchers will be delivered to Sevmash by May 2017.

In late 2015 the 21st State Central Multi-Purpose Range in the settlement of Nenoksa in Arkhangelsk region (the main test range for cruise and sea-based ballistic missiles) saw a failed launch of a certain experimental sample. According to available information, work was underway in Nenoksa at the same time to build a ground launching pad for experimental missiles. Early this year test trials resumed there.

It became known in March that Tsirkon arrived at the launching pad of the test range. An informed source said the missiles were already made of metal and launches from the ground pad began. There are grounds to believe that 3K-22 complex and 3M-22 missiles were tested in Nenoksa.

It became known in February that 3K-22 will be installed on yet another heavy nuclear missile cruiser - Petr Veliky of project 1144 which is scheduled to undergo maintenance in the middle or end of 2019.

The publication said available information shows that Tsirkon will also be carried by fifth-generation Haski submarine designed by Malakhit naval machine-building bureau in St. Petersburg. The latest nuclear submarine is designed on one basic platform in two options: multi-purpose to fight submarines and anti-aircraft carrier armed with cruise missiles, including Tsirkon.

Although test trials of Tsirkon are ongoing there is little information about it even compared to project 4202. So far it is unclear whether there is an air-based option of the latest hypersonic missile complex and, if yes, how successful were its tests in Akhtubinsk in 2012-2013 and what the prospects are.

Tsirkon has one specific characteristic. Judging by the annual report of NPO Mashinstroeniya, it will have both radar target seeker and an optical-electronic complex in charge of tracing and detecting targets also at hypersonic speed.

Only five years have passed since information about a new hypersonic missile emerged to the creation of a group of chief designers if we omit air launches. Experts therefore believe Tsirkon is based on existing and tested technical solutions. This supposition might be confirmed by a short time between the emergence of a detailed design and project documents for automatic piloting and inertial navigation system. It took Granit-Elektron Company two years to produce it. High unification level of the new missile with supersonic Onyx is confirmed by the technical assignment for universal vertical launchers which makes Tsirkon fully replaceable by 3M-55. The launcher has to be ready by this summer.

Thus, experts believe Onyx launchers on warships, submarines and even ground objects can if necessary also fire Tsirkon which makes the hypersonic missile universal and very dangerous for potential adversary.

© Copyright 2015 TASS. All rights reserved. This material may not be published, broadcast, rewritten or redistributed.