Abu Dhabi class ASW Corvette
| | |
| --- | --- |
| | Designed and built by Italian shipyard Fincantieri, the "Abu Dhabi class" corvette for the United Arab Emirates has been developed from the "Cigala Fulgosi " desigb on the basis of which four "Comandanti" class vessels were built for the Italian Navy. |
a
Abu Dhabi class ASW Corvette - UAE Navy
Anti-Submarine Warfare Corvette - Fincantieri

Designed and built by Italian shipyard Fincantieri, the "Abu Dhabi class" corvette for the United Arab Emirates has been developed from the "Cigala Fulgosi " desigb on the basis of which four "Comandanti" class vessels were built for the Italian Navy.

This cutting edge ship will mainly carry out patrolling and surveillance activities and may be employed in antisubmarine, anti-aircraft and surface activities. It will be able to exchange tactical data in real time with other naval vessels, helicopters and on shore bases and will be able to provide support and shelter for the Emirate Navy helicopters.

In addition to highly flexible operational capabilities, the vessel will also feature high standards of safety and living conditions for the comfort of the crew.
Shiplist
| | | | |
| --- | --- | --- | --- |
| Name | Hull Number | Launched | Commissioned |
| Abu Dhabi | P191 | 02/2011 | - |
Variants
- None


Technical Data
Back to top
Missions
» Patrol in the EEZ
» Surveillance
» ASW, AAW, ASUW
Deck Equipment
» Helicopter deck: for 10 tons helicopter
» Helicopter hangar: for 10 tons helicopter
» Boats: 2 x RHIB
Weapons
Guns:
» 1x Oto Melara 76/62 mm Super Rapid main gun
» 2x Oto Melara Marlin 30 mm remote controlled naval turret
» 2x 12.7 mm machine guns
Missiles:
» 4x MBDA MM40 Blk III Exocet Anti-ship missiles (2 launchers with 2 missiles each)
Torpedoes:
» 2x Torpedo launchers
Sensors, Electronics, Decoys
Combat Management and Information Systems:
SELEX Sistemi Integrati Athena (IPN-S System) Combat Management System
Optronics:
1x Optronic Fire Control System
Radars, Sonars and ESM:
1x Air & Surface Surveillance Radar System
1x IFF Interrogator
1x Radar ESM
1x X-band Navigation Radar with frequency diversity
1x X-band Navigation Radar with LPI component
1x Thales KINGKLIP UMS 4132 HMS (Hull Mounted Sonar)
1x Thales CAPTAS 2 / UMS 4229 VDS (Variable Depth Sonar)
Expendable Bathythermograph Ssytem
Decoys/Counter measures/Jammers:
2x Anti-torpedoes decoy launching system
2x AAW decoy launching system
Communications:
External Communication System with Data Link
Internal Communication System
Satcom Communication System
Engines/Propulsion/Power
N/A
2x Propeller Shafts
Specifications
Back to top
Type

Anti-Submarine Warfare Corvette

Crew

70

Operators

UAE Navy

Performance

Speeds: 25+ kts (max)
Range: 3,000+ nm @ 14 kts
Endurance: 20 days at sea

Designer / Builder

Fincantieri

Displacement

1,650 tons (full load)

Aviation

Spot and Hangar for 1x 10 tons class helicopter

Dimensions

Length: 88.40 m
Beam: 12.20 m
Maximum Draft: 8.20 m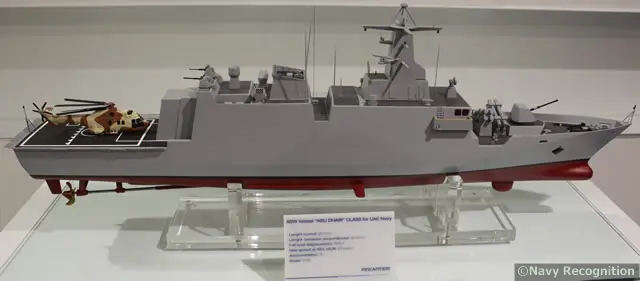 Back to top