---
Doha International Maritime Defence Exhibition & Conference, DIMDEX 2018, to be held in Qatar between March 12-14 is going to be the sixth this year under the patronage of His Highness Sheikh Tamim bin Hamad Al-Thani, Emir of the State of Qatar. DIMDEX, is proudly hosted and organised by Qatar Armed Forces.It is expected that the fair will host visitors from more than sixty countries from Europe, America, Far East and Gulf regions.DIMDEX, which has been held every two years since 2008, was started as an event on maritime defence and has broadened its framework over the years into a structure in which aviation, electronic systems and land systems are exhibited.
---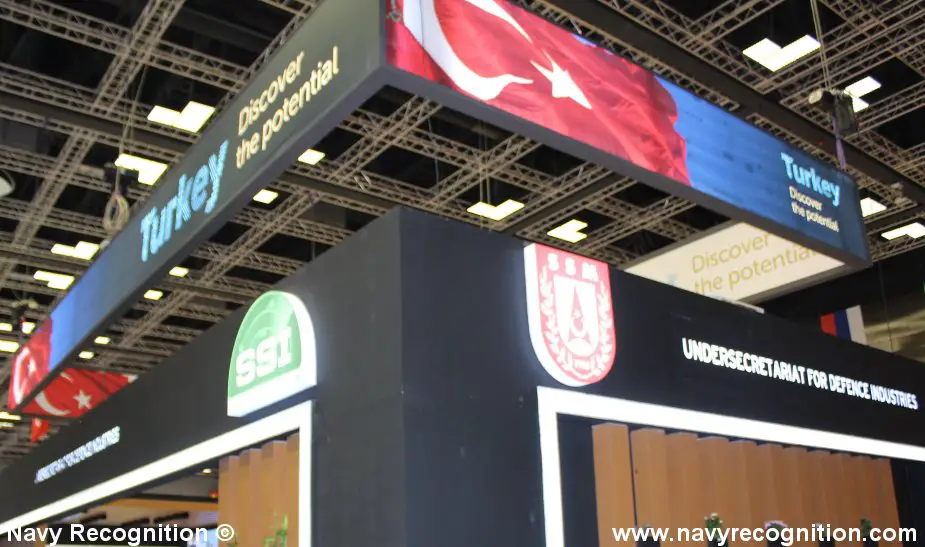 The SSM booth at DIMDEX 2018
---
DIMDEX provides a platform for Turkish defence industry companies to promote themselves andfoster bilateral cooperation.Since its very first national participation in 2010, Turkey has been expanding its area at DIMDEX, reaching 24 companies occupying 1295 square meters of the fairground in 2016.
This year, at DIMDEX 2018, 33 Turkish companies are going to be participating together with Turkish Defence and Aerospace Industry Exporters Association under the leadership of the Undersecretariat of Defence Industries at the Turkish Pavilion that is going to be established on over 2400 square meters of space. The list of Turkish exhibitors is as shown below;
UNIFO, GARANTİ GİYİM, TRANSVARO, DEARSAN, TÜBİTAK BİLGEM, MILSOFT, METEKSAN, SDT, MKEK, TAIS, ASELSAN, İŞBİR, NUROL MAKİNA, SARSILMAZ, ROKETSAN, GÜL OTOMOTİV, HAVELSAN, YONCA ONUK, AKSA RUN FLAT (TEKCAN), TURMAKS, SİMBT, AVS, KALE HAVACILIK, MEDYACITY, STM, AN GRUP, ANKAREF, KALE KALIP, DESAN, AKADEMİ SANCAK, CTECH, TÜBİTAK SAGE, SBI Bilişim

Turkey attaches great importance to increase its cooperation with Gulf countries in every field including defence industry. Further developing good relations based on mutual trust, common values and interests would not only contribute to exportation of co-produced goods but also to preservation of regional security and stability through strengthening national armed forces.
More than 180 companies from 90 countries and 380 official delegations from 40 countries are expected to attend DIMDEX 2018. Ejder Yalçın Tactical Wheeled Armoured Vehicle of Nurol Makina, Bayraktar TB2 Unmanned Combat Aerial Vehicle of Baykar Makina and Multi Role Tactical Platform family of Yonca-Onuk JV are the Turkish products that are foreseen to come to the fore during DIMDEX 2018.
---