a
Naval Forces News - USA
Bell Boeing V-22 Osprey for U.S. Navy COD Mission Receives Official Designation: CMV-22B
In February 2015, the U.S. Navy announced the Carrier Onboard Delivery, commonly referred to as COD, platform of the future would be a maritime variant of the V-22 Osprey. Until recently, that aircraft was referred to as the Navy variant. Now, that V-22 has an official designation: CMV-22B.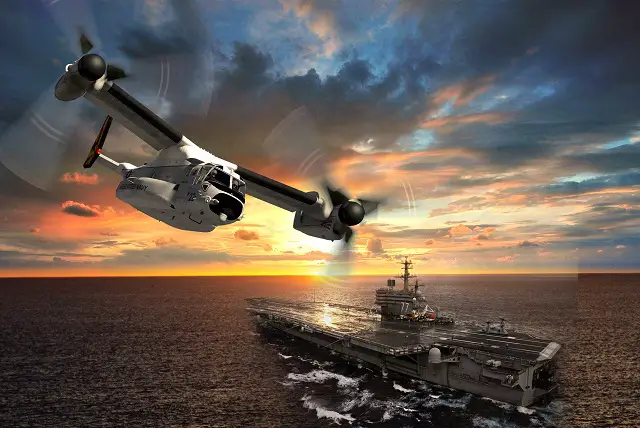 Artist impression showing a US Navy CMV-22B in a COD mission. Image: Bell

The main mission of the COD platform is to provide the Joint Force Maritime Component Commander with time-critical, long-range aerial logistics support by transporting personnel, mail and priority cargo from advance bases to the sea base. The CMV-22B will be the same as the MV-22B with three additions. It will include an extended-range fuel system, a high-frequency radio and a public address system.

The Osprey secondary Navy missions shouldl include:
- Personnel recovery (including SAR)
- Special warfare (with US Navy Seals)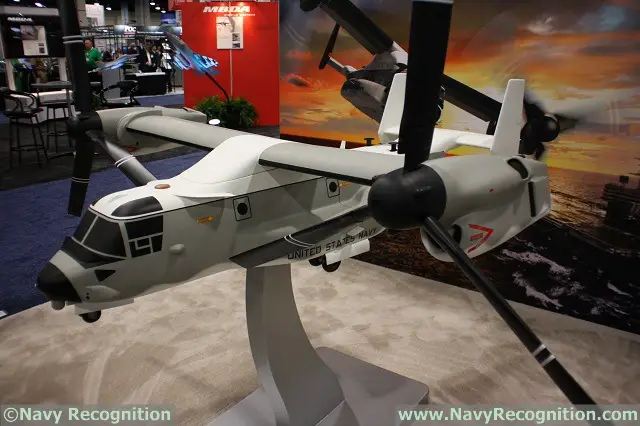 CMV-22B Osprey model in US Navy colors on display at the Bell booth during Sea Air Space 2015

The CMV-22B should have larger external sponsons to fit more fuel inside. This would be the only physical difference with legacy V-22.
Currently, the U.S. Navy has planned for a total of 44 CMV-22B aircraft to be purchased. Production is expected to begin in fiscal 2018 and deliveries of the aircraft will begin in 2020.
The UK and France are supposedly interested in the V-22 for COD missions as well as we
reported recently
.