a
Naval Forces News - USA, Spain
Latest AEGIS Combat System Interoperability Tested Between DDG 51 and Spanish Navy Frigate
The U.S. Navy conducted a series of cooperative air defense test exercises with the Spanish Navy that culminated in live missile firing events using the latest Aegis Weapon System, July 20-21. This event was not only the first interoperability test of the latest Aegis Baseline 9.C1 with a foreign ship, but also the first combined Combat Systems Ship Qualification Trial with that country's navy since 2007. The destroyer
USS Arleigh Burke (DDG 51)
and the Spanish frigate Cristobol Colón (F 105) participated in the testing.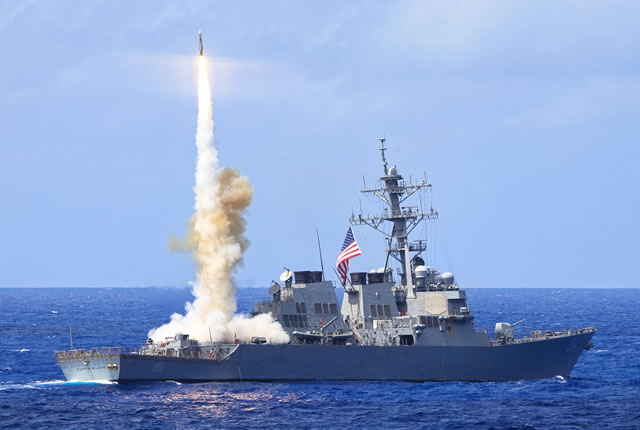 Arleigh Burke (DDG 51) guided missile destroyer (first ship of the class). File picture: US Navy
In addition to live missile firing events, Tactical Data Link interoperability exercises were held July 12-14.

"While our Combat Systems suites are slightly different, the way we operate and execute missions are quite similar," said Cmdr. Tom Myers, commanding officer of Arleigh Burke.

"My crew and I are grateful for the opportunity to deepen our operational relationship with our Spanish allies and enhance interoperability initiatives between our two navies. The professionalism and proficiency of the Cristobol Colón crew was top notch and it was an honor to work with them," he added.

During the events, both ships combined with E-2 aircraft, shared a common tactical picture using the Aegis AN/SPY-1 radar and Tactical Data Links. Arleigh Burke also demonstrated Aegis Integrated Air and Missile Defense and Area Defense detect to engage performance against a variety of subsonic anti-ship cruise missile targets.

"The complex, multi-participant interoperability testing between DDG 51, F 105, Land Based Test Sites, E-2C and E-2D aircraft as well as challenging IAMD and AD test scenarios demonstrate the impressive capability of the Aegis Combat System that is delivered to the hands of our Sailors," said Capt. Todd Boehm, Major Program Manager for Aegis Fleet Readiness.

The Spanish Chief of Naval Operations Adm. Jaime Muñoz-Delgado and Minister of Defense Pedro Morenés were on board Cristobal Colón during the live fire events.
Álvaro de Bazán class (also known as F100 class) frigate Cristóbal Colón of the Spanish Navy

"These international relationships form the backbone of a vibrant, interoperable naval power network," said Rear Adm. Jon Hill, program executive officer for Integrated Warfare Systems.

"As we expand our combat capabilities, our allies look to us for leading edge technologies and battlespace advantage - and this enhances our distributed lethality network," he added.

The interoperability tests occurred two weeks after Arleigh Burke celebrated its 25th anniversary of service to the fleet as the Navy's oldest guided-missile destroyer.

The exercises between Arleigh Burke and Cristobol Colón come less than a year after the fourth and final Arleigh Burke class guided-missile destroyer arrived in Rota, Spain as part of the Forward-Deployed Naval Force. In September 2015, USS Carney (DDG 64) joined USS Donald Cook, USS Ross (DDG 71), and USS Porter (DDG 78) to maximize the ships' operational flexibility for missions in the Atlantic and Mediterranean.

The Aegis Weapon System is a centralized, automated, command-and-control weapons control system that was designed as a total weapon system from detection to engagement. The heart of the system is the AN/SPY-1 radar, which is an advanced, automatic detect and track, multi-function phased-array radar. This high-powered radar is able to perform search, track, and missile guidance functions simultaneously with a track capacity of more than 100 targets.

Aegis Baseline 9 development efforts established the Aegis Common Source Library, which enables software reuse and commonality across all modern Aegis Combat System configurations. Specifically, the Aegis Common Source Library allows for the use of common tactical software across four different Aegis configurations, including Air Defense Cruisers, Integrated Air and Missile Defense (IAMD) Destroyers, New Construction IAMD Destroyers, and Aegis Ashore.