a
Naval Industry News - USA

Huntington Ingalls Industries Christened Destroyer Delbert D. Black - DDG 119
Huntington Ingalls Industries' (HII) Ingalls Shipbuilding division celebrated the christening of the Arleigh Burke-class guided missile destroyer Delbert D. Black (DDG 119) today with approximately 1,200 guests in attendance.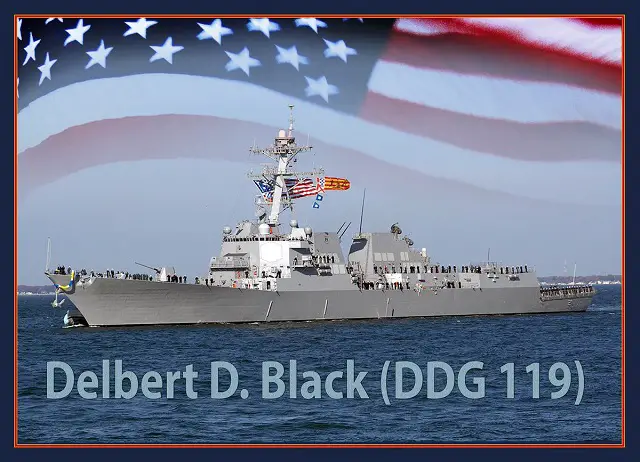 Destroyer Delbert D. Black is the fourth Arleigh Burke-class, "Flight IIA: Technology Insertion" variant. "Technology Insertion" ships are fitted with elements from the future DDG 51 Flight III.
"This ship is a fitting tribute to the master chief who set the tone for all of us to follow as authentic, competent and courageous leaders," said Master Chief Petty Officer of the Navy Steven Giordano, who served as keynote speaker. "This ship represents the enlisted force perhaps more than any other ship in the Navy."

The ship is named in honor of Delbert D. Black, who served as a gunner's mate in the U.S. Navy and was aboard the battleship USS Maryland (BB 46) during the attack on Pearl Harbor.

Ingalls has delivered 29 Arleigh Burke-class destroyers to the Navy. Other destroyers currently under construction at Ingalls include Ralph Johnson (DDG 114), Paul Ignatius (DDG 117), Frank E. Petersen Jr. (DDG 121) and Lenah H. Sutcliffe Higbee (DDG 123).

"Defending our country has not gotten any easier," said Rep. Gregg Harper, R-Miss. "We are confronted in many ways, but we are comforted as we visit this exceptional shipyard. Brian Cuccias and his team are building 10 or 11 ships right now representing four classes, and even with all that, it's not at full capacity. Ingalls shipyard is well positioned to provide additional ship production to support a U.S. Navy force structure of 355 ships."

Arleigh Burke-class destroyers are highly capable, multi-mission ships that can conduct a variety of operations, from peacetime presence and crisis management to sea control and power projection, all in support of the United States' military strategy. DDGs are capable of simultaneously fighting air, surface and subsurface battles. The ship contains myriad offensive and defensive weapons designed to support maritime defense needs well into the 21st century.