---
The Boiky corvette (NATO reporting name: Steregushchy-class), the Kabardino-Balkaria small antisubmarine warfare ship and the Sibiryakov hydrographic vessel of the Baltic Fleet are supporting the state trials of the Project 636.3 diesel-electric submarine Volkhov (Improved Kilo) in the Baltic Sea, the Defense Ministry's press office said.
Follow Navy Recognition on Google News at this link
---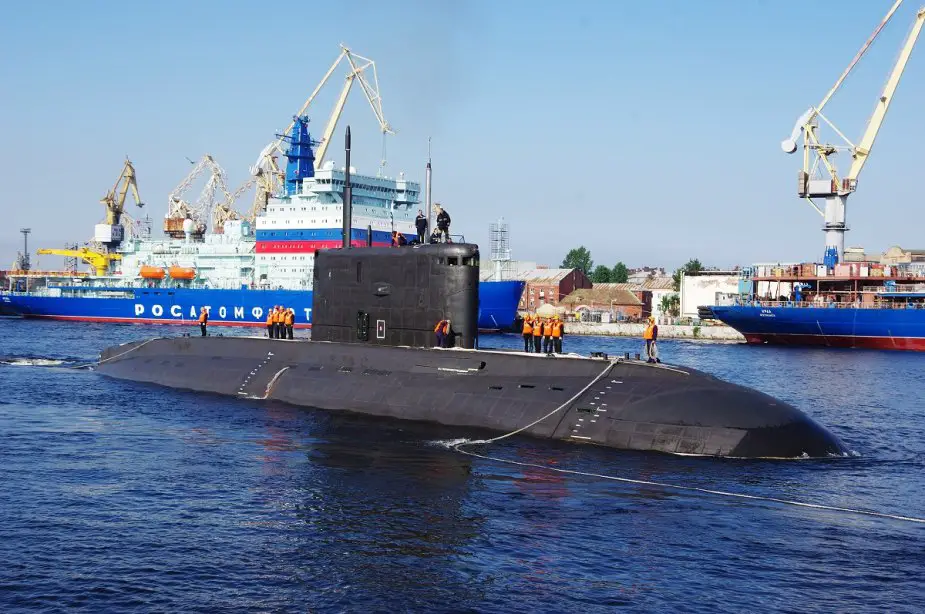 The diesel-electric submarine B-603 Volkhov (serial number 01615) of project 636.3, built at JSC Admiralty Shipyard for the Pacific Fleet of the Russian Navy, during factory sea trials. St. Petersburg, July 2020. (Picture source: United Shipbuilding Corporation)
---
"During the trials, the diesel-electric submarine submerged to various depths. The submariners are interacting with shipbuilders to assess the work of systems and mechanisms, check weapons and equipment in the underwater and surface positions, test the submarine at maximum speed and the operation of the sonar station and radio aids," the press office said.
State trials are an obligatory stage during the construction of any ship and are held to check shipborne systems and mechanisms and their compliance with the requirements specification, technical description and operating manual.
Trials of advanced hardware designed for the Russian Navy and foreign states are regularly held at Baltic Sea ranges and are supported by ships, vessels, rescue forces and aircraft of the Baltic Fleet.
---
The diesel-electric submarine B-603 Volkhov (serial number 01615) of project 636.3, built at JSC Admiralty Shipyard for the Pacific Fleet of the Russian Navy, during factory sea trials. St. Petersburg, July 2020. (Picture source: United Shipbuilding Corporation)
---
The Volkhov submarine is the second in a series of six Project 636.3 diesel-electric submarines being built by the Admiralty Wharves Shipyard in St. Petersburg in northwest Russia for the Pacific Fleet. The Volkhov submarine was laid down in July 2017 and launched in December 2019.
The Project 636.3 lead diesel-electric submarine, i.e. the Petropavlovsk-Kamchatsky, joined the Russian Navy in November 2019.
The construction of the series of submarines for the Pacific Fleet is on schedule and is expected to be completed in 2022 under the contract.
Unlike its predecessors, the upgraded Project 636.3 submarine has higher combat effectiveness. The submarine also features low acoustic signature, an extended target detection range, an advanced inertial navigation system, a sophisticated automated information management system, and high-power torpedo and missile armament.
---
© Copyright 2020 TASS Navy Recognition. All rights reserved. This material may not be published, broadcast, rewritten or redistributed.
---