---
The Boeing Co., Seattle, Washington, is awarded a $29,059,944 modification (P00172) to previously awarded firm-fixed-price contract N00019-14-C-0067 for the production and delivery of 10 P-8A Poseidon A-kits, 10 turret deployment units and eight mechanism units in support of Lot 10 P-8A production aircraft.
---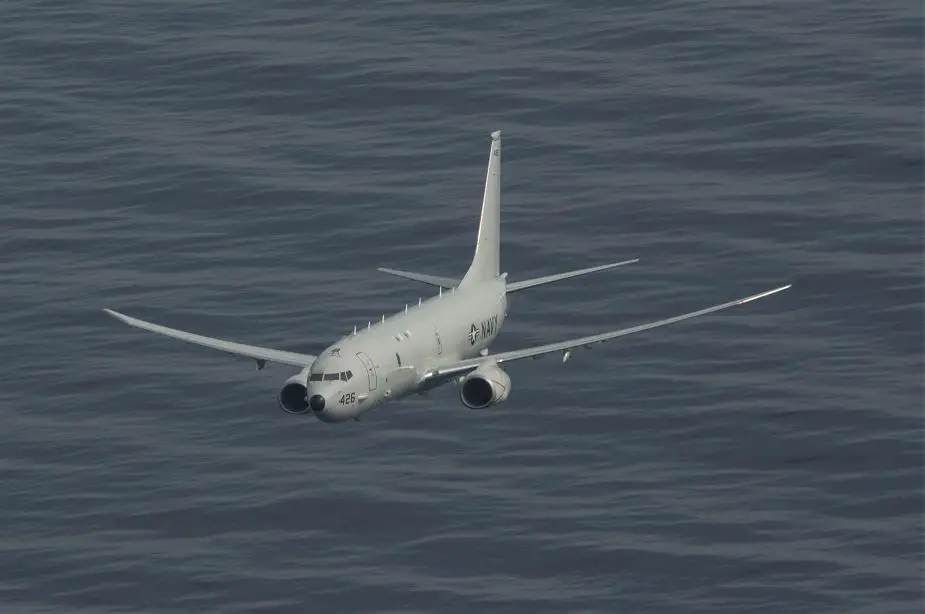 P-8A Poseidon multi-mission maritime patrol and reconnaissance aircraft assigned to Patrol Squadron (VP) 4 flies over the Atlantic Ocean during a photo exercise, March 29, 2020. (Picture source U.S. Navy)
---
The P-8A weapon system consists of a basic Boeing commercial 737-800 ERX air vehicle modified to meet Navy requirements, and numerous systems and subsystems for avionics, communications, mission, and weapon capabilities.
The Boeing P-8 is truly a multi-mission maritime patrol aircraft, excelling at anti-submarine warfare; anti-surface warfare; intelligence, surveillance and reconnaissance and search and rescue. The P-8 can fly higher (up to 41,000 ft) and get to the fight faster (490 knots). Shorter transit times reduce the size of the Area of Probability when searching for submarines, surface vessels or search and rescue survivors. P-8 is also designed for low altitude missions and has already proven its abilities supporting humanitarian and search and rescue missions. Globally proven, the P-8 has two variants: The P-8I, flown by the Indian Navy, and the P-8A Poseidon, flown by the U.S. Navy and the Royal Australian Air Force.
A derivative of the Next-Generation 737-800, the P-8 combines superior performance and reliability with an advanced mission system that ensures maximum interoperability in the future battle space. The P-8 is engineered for 25 years/25,000 hours in the harshest maritime flight regimes, including extended operations in icing environments.

Boeing has already delivered ECP 6 A-kits and initial ECP 6 aircraft modifications. The P-8A ECP 6 provides a significant modification to the P-8A baseline airframe and avionics systems, and includes new airframe racks, radomes, antennas, sensors, and wiring, while incorporating a new combat systems suite with an improved computer processing and security architecture capability at the Higher than Secret level, a Wide Band SATCOM system, an ASW Signals Intelligence capability, a Minotaur track management system, and additional communications and acoustics systems to enhance search, detection, and targeting capabilities.

In November 2019, Boeing has delivered the first of nine P-8A Poseidon maritime patrol aircraft (MPA) to the United Kingdom Royal Air Force (RAF). The United Kingdom is acquiring the multi-mission aircraft through the Foreign Military Sales process with the U.S. Navy. The P-8A Poseidon replaces the U.K.'s retired Nimrod aircraft.
---