---
The Knyaz Vladimir Borei-A class nuclear submarine of project 955A SSBN (ballistic missile submarine) began underwater trials in the White Sea before the handover to the Northern fleet, the Russian Defense Ministry said, on May 19, 2020. 
Follow Navy Recognition on Google News at this link
---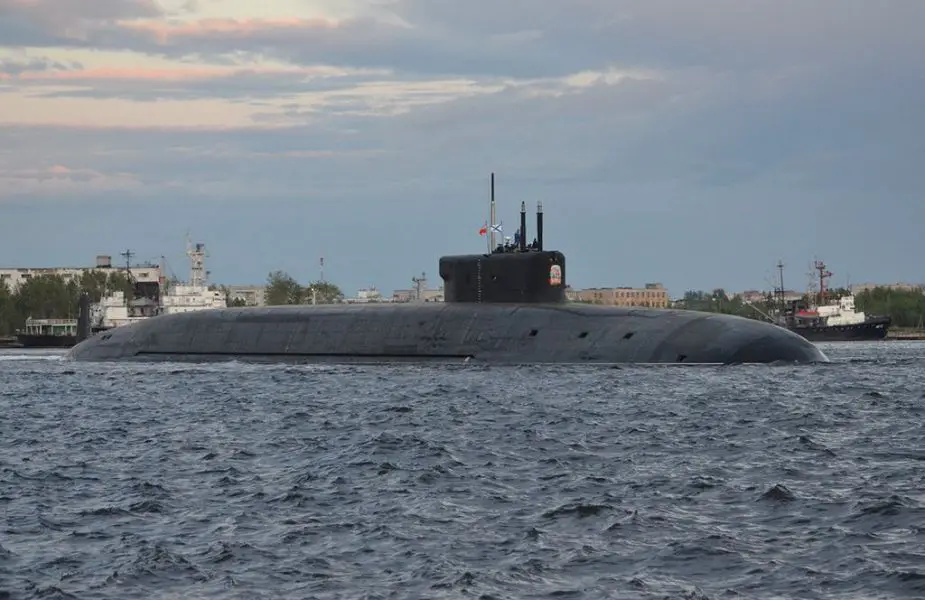 Knyaz Vladimir Borei-A class nuclear submarine of project 955A SSBN. (Picture source Twitter account Capt Navy)
---
"Since May 12, the submarine has operated in a surfaced state to check running and maneuvering capabilities. The underwater trials are assisted by two tugs of Belomorskaya naval base and the Mikhail Rudnitsky rescue vessel," it said.
The trial team and the crew check the elimination of previously exposed drawbacks and the operability of all systems and mechanisms. After the trials, a decision will be made to include the submarine into the Northern fleet and deploy it in the Kola Peninsula.
The Knyaz Vladimir SSBN underwent missile and underwater fire trials in late 2019. It is the lead SSBN of upgraded project 955A. It differs from project 955 by hull lines, low noise and improved controls.
The Borei-A sea trials began in late November/early December 2018 and finished in January 2019. In October 2019, Knyaz Vladimir submarine conducted for the first time a RSM-56 Bulava (NATO reporting name: SS-N-32) submarine-launched ballistic missile (SLBM).
The Borei class is a series of nuclear-powered ballistic missile submarines being constructed by Sevmash for the Russian Navy. The Borei-A Project 955A includes improved communication and detection systems, improved acoustic signature and have major structural changes such as addition of all moving rudders and vertical endplates to the hydroplanes for higher maneuverability, and a different sail geometry. This submarine is equipped with hydraulic jets and improved screws what allows them to sail at nearly 30 knots while submerged with minimal noise.
Fourth-generation SSBN of projects 955 and 955A will be the backbone of Russian strategic nuclear naval forces for decades. They carry 16 Bulava R-30 intercontinental solid-fuel ballistic missiles. Their range exceeds 9,000 km. A salvo from SSBN can destroy dozens of targets. It is impossible to intercept the missiles, as they carry multiple independently-guided reentry vehicles.
The Russian Navy command said upgraded SSBN of project 955A will be more maneuverable underwater. They will get upgraded arms controls. The new hull lines will better keep the sub at a depth.
---
© Copyright 2020 TASS Navy Recognition. All rights reserved. This material may not be published, broadcast, rewritten or redistributed.
---