---
According to a press release published on October 13, 2020, Thales celebrates the delivery of CCGS John Cabot, the third Offshore Fisheries Science Vessel (OFSV) delivered to the Canadian Coast Guard under the Government of Canada's National Shipbuilding Strategy (NSS).
Follow Navy Recognition on Google News at this link
---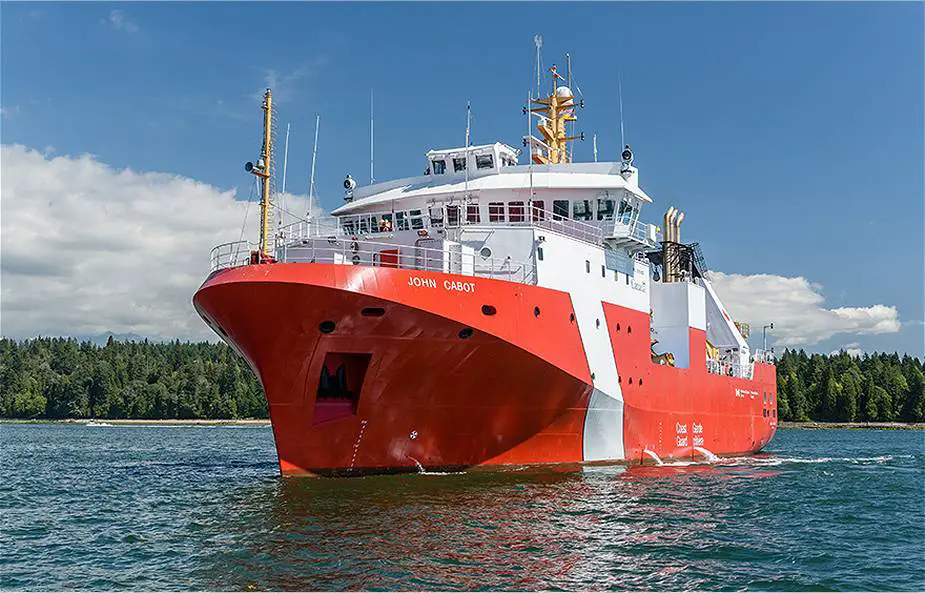 Canadian Coast Guard Offshore Fisheries Science Vessel John Cabot. (Picture source Canadian Coast Guard)
---
The three new OFSVs, the first class of large vessels built under the NSS, are serving as the primary platform for Canada's Fisheries and Oceans scientists to conduct important research activities. In addition, the OFSVs have the capability to support search and rescue and environmental response operations.
Thales played a key role in constructing the new OFSVs in support of the Canadian Coast Guard's mandate. As Seaspan Shipyard's Electronic Systems Integrator (ESI) for these vessels, Thales is responsible for the design, development and installation of the integrated bridge and navigation, internal and external communication, and science mission systems.

In 2016, Seaspan Shipyards contracted Thales as the ESI for the three Offshore Fisheries Science Vessels, two new Joint Support Ships and one Offshore Oceanographic Science Vessel. Under the NSS, Thales has generated significant economic impact to Canada, working with more than 70 suppliers across eight provinces from coast-to-coast, with investments totaling more than $70M CAD.
The Offshore Fisheries Science Vessels (OFSV) are the first class of large ships to be built by Seaspan Shipyards, as part of the non-combat package under the National Shipbuilding Strategy.The OFSV CCGS Sir John Franklin was delivered to the Canadian Coast Guard in June 2019 and CCGS Capt Jacques Cartier was delivered in November 2019. Both vessels are now dedicated primarily to science missions.
The construction of the CCGS John Cabot began in February 2017. The ship was launched in Vancouver on July 3, 2020. Its homeport is located in St. John's, Newfoundland and Labrador. It is planned to begin science missions in April 2021.
The new OFSVs will replace existing Coast Guard ships on the east and west coasts of Canada and provide a modern platform for critical scientific research. These vessels will also be able to support search and rescue and environmental response functions at any time when needed.
---