a
Naval Forces News - USA
Lockheed Martin wins $200M for LRASM next generation ant-ship missile

The US Department of Defense announced July 2nd that Lockheed Martin Corporation in Orlando, Florida, was awarded a cost-plus-incentive-fee contract for an amount not to exceed $200,000,000 for the Long Range Anti-Ship Missile Accelerated Acquisition program.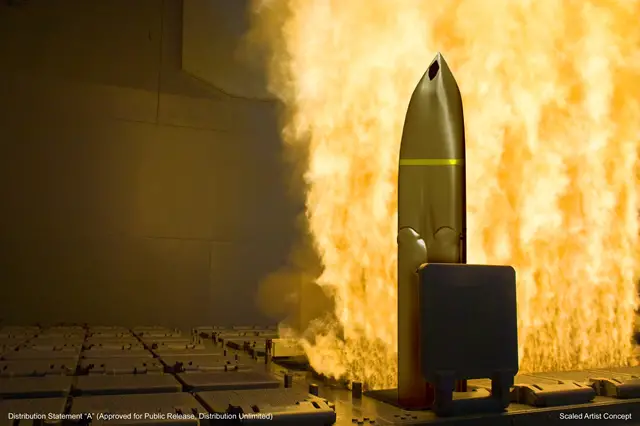 An LRASM launches from a VLS (Artist Impression)
(Picture: Lockheed Martin)

Frank St. John, Lockheed Martin Vice President of Tactical Missiles and Combat Maneuver Systems commented:

Lockheed Martin has received a contract from the Defense Advanced Research Project Agency (DARPA) for the accelerated acquisition and deployment of the Long Range Anti-Ship Missile (LRASM). The contract allows for further sensor and avionics hardware development and missile hardware production to enable additional flight tests.

LRASM gives the warfighter a capable, anti-ship standoff weapon previously not in inventory. Working closely with our Navy, DARPA and Air Force customers allows us to further demonstrate LRASM's technologies, and enables us to quickly field this much-needed capability
Our LRASM interview from October 2013
In September 2013, Lockheed Martin successfully launched the first LRASM Boosted Test Vehicle from a MK 41 VLS launcher at White Sands Missile Range, N.M. During the test, MK 41 VLS successfully ignited the LRASM Mk-114 rocket motor, and the LRASM Boosted Test Vehicle penetrated and exited through the canister cover and performed a guided flight profile similar to a tactical configuration.

In 2014, there will be two DARPA-funded surface-launch demonstrations with a LRASM vertically launched from the Desert Ship at White Sands Missile Range, transitioning to controlled flight and target area impact.

LRASM is in development with the Defense Advanced Research Project Agency (DARPA) and the Office of Naval Research. Lockheed Martin's offering has both surface-launched and air-launched variants to prosecute sea-based targets at significant standoff ranges.