Turkish Shipyard ADIK showcasing its Landing Ship Tank (LST) project at IDEF 2013
| | |
| --- | --- |
| | At the IDEF 2013 defense exhibition currently held in Istanbul, Turkey, Turkish shipyard ADIK (Anadolu Shipyard) is showcasing its Landing Ship Tank project. The project consists in a locally produced new generation fast amphibious vessel of upper-intermediate size designed to meet operational requirements of Turkish Naval Forces Command. |
a
Naval Defense Industry News - Turkey
Turkish Shipyard ADIK showcasing its Landing Ship Tank (LST) project at IDEF 2013
At the IDEF 2013 defense exhibition currently held in Istanbul, Turkey, Turkish shipyard ADIK (Anadolu Shipyard) is showcasing its Landing Ship Tank project. The project consists in a locally produced new generation fast amphibious vessel of upper-intermediate size designed to meet operational requirements of Turkish Naval Forces Command.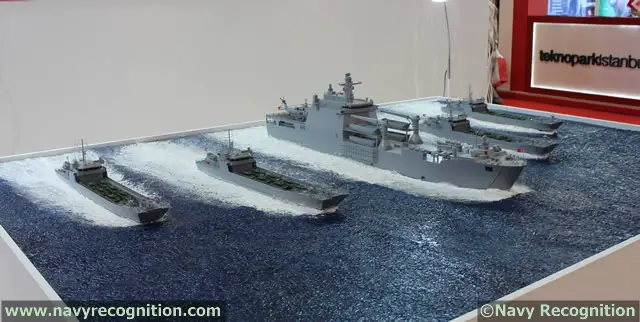 ADIK Landing Ship Tank (center) surrounded by some ADIK Landing Craft Tank
The vessel is intended to play a major role in terms of power projection and amphibious operations. It will also acts as a flag ship and logistic support vessel.

Anadolu Shipyard is responsible for the design, construction and system integration. Navy Recognition was told during IDEF that construction of the first of class will start shortly and should take about 44 months until completion. The original contract signed in 2011 is intended for the procurement of 2 units with an option for 2 more vessels.

The LST is a mono-hull type vessel, all steel construction, designed to meet the speed, sea keeping maneuverability and stability requirements of Turkish Naval Forces Command.

Designed to carry about 24 Main Battle Tanks, the LST comes with 2 motorised pontoons to ferry MBTs and vehicles from the LST to the beach. When not in use, the pontoons are stored on the port and starboard side of the LST's hull.

Regarding systems, we were told that the two bow mounted guns will be Oto Melara's Fast Forty 40mm Naval Mount. The radar system will be a Smart-S Mk2 locally produced under liscence by Aselsan.

General Specifications:
Displacement : 7125 Tons
Length (LOA) : 138.75 m
Length (LWL) : 130.80 m
Beam : 19,60 m
Draught : Less than 2.0 m forward, less than 5.0 m aft at full load
Propulsion : 4 x main diesel engines 2880 kW each,
2x shafts, 2x controllable pitch propellers
1x 500 kW bow thruster
Speed (max continuous) : 18 + knots at full load displacement.

Complement:
Ship : 12 officers, 51 petty officers, 66 ratings
Joint Group Headquarters : 17 officers
Marines : 350
Ship is capable of carrying 1180 tons of mixed vehicles or cargo on vehicle and open decks at full performance.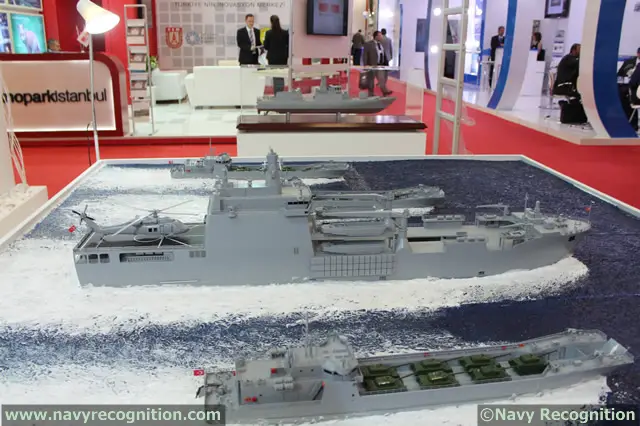 The LST is designed to carry about 24 Main Battle Tanks