Friday, 30 September 2011 20:56
a
Type 26 Frigate - Global Combat Ship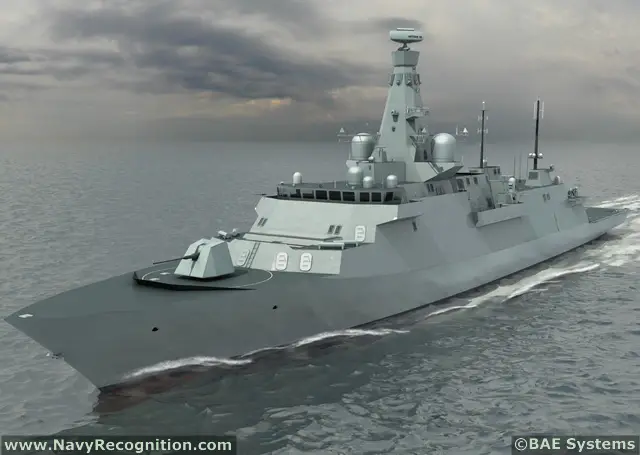 BAE Systems' Type 26 - GCS is a multi-role warship designed for joint or multinational contingent operations across the full spectrum of warfare. The Global Combat Ship will be a highly capable and versatile multi-mission warship designed to support anti-submarine warfare, air defence and general purpose operations anywhere on the world's oceans.

The Type 26 is the future Anti-Submarine Warfare Frigate that will replace the Royal Navy's 13 Type 23 frigates and other ships. The programme has been in development since 1998, initially under the designation "Future Surface Combatant (FSC)". The FSC concept was brought forward in the 2008 budget, at the expense of two Type 45 destroyers being cancelled.

In March 2010, a four year programme was launched to develop the UK Type 26 variant of the Global Combat Ship. The project comprises a joint BAE Systems, Ministry of Defence team, to evaluate capability, availability, exportability and support options leading to the development of a detailed specification for the ship and the design and development of its systems ready for manufacture.

Due to arrive from 2021 onwards the Type 26 Frigates are intended to replace not just existing Type 23 Frigates but also minehunters and survey ships. The vessels will be among the most versatile ever to sail under the White Ensign, serving as submarine-hunters, general duty warships, survey ships and mother ships for tomorrow's mine warfare forces. Right now there's an 80-strong team of naval and civilian engineers working on the designs in Bristol. By the mid-2030s the Type 26 will be the backbone and workhorses of the Royal Navy and should remain in service until the 2060s.
Shiplist
TBA
Variants:
Export variants may be taylored to customer needs.
All variants of will share a common acoustically quiet hull and will take full advantage of modular design and open systems architecture to facilitate through-life support and upgrades as new technology develops. This will ensure the Global Combat Ship remains relevant to future maritime demands and delivers an adaptable design with the ability to accommodate sub-systems to meet individual country needs.

GCS early concept

Technical Data
Back to top
Design
Focus on flexibility and modularity. Clean angular lines to increase stealth.
Behind the helicopter hangar is a mission bay large enough for several RHIBs, unmanned surface vehicles and special mission containers. Large flight deck can land a Chinook.
Missions
Versatility of roles is enabled by the Integrated Mission Bay and Hangar, capable of supporting multiple helicopters, UUVs, boats, mission loads and disaster relief stores. A launcher can be provided for fixed wing UAV operation and the Flight Deck is capable of landing a Chinook helicopter for transport of embarked forces.
Weapons
Anti-ship missiles:
TBA

Anti-air missiles:
48x MBDA CAMM (Common Anti Air Modular Missile - Sea Ceptor)

Guns:
1x 5 inch gun (main gun)
2x Phalanx (CIWS)
2x 30mm MSI remote weapon stations

Anti-Submarine weapons:
TBA
Sensors, Electronics and Decoys
Electronic equipment:
TBA
Optronics:
TBA
Radars:
BAE Systems' Artisan 3D
Decoys/Counter measures:
TBA
Sonars:
TBA
Navigation:
TBA
Communications:
Rohde & Schwarz Integrated Communications System
Engines
Propulsion type: CODLOG (Combined diesel electric or gas)
1x Rolls Royce MT30 gas turbine
4x MTU Type 20V 4000 M53B high speed diesel generators
Gas turbine direct drive
Specifications
Back to top
Type

Multi-Role Frigate

Crew

118 (accomodations for 72 embarked forces)


Operators

Royal Navy

Performance

Top Speed: 26+ kts
Range: 7,000 nm @ n/a kts
Endurance: 60 days

Displacement

6,000 tonnes

Propulsion

Combined diesel electric or gas

Aircraft

1 Merlin,1 rotary wing UAV, fixed wing UAVs

Dimensions

Length: 148.5 m
Breadth: 20 m
Maximum Draft: - m

Pictures © Navyrecognition
Back to top
------------------------- FLASH NEWS -------------------------
The French Navy has released a video showing the first launch of an MdCN Naval Cruise Missile from a FREMM Frigate.