Thursday, 29 December 2011 16:46
a
Type 216 / U-216 Conventional AIP Submarine (SSK)
TKMS Submarine Class 216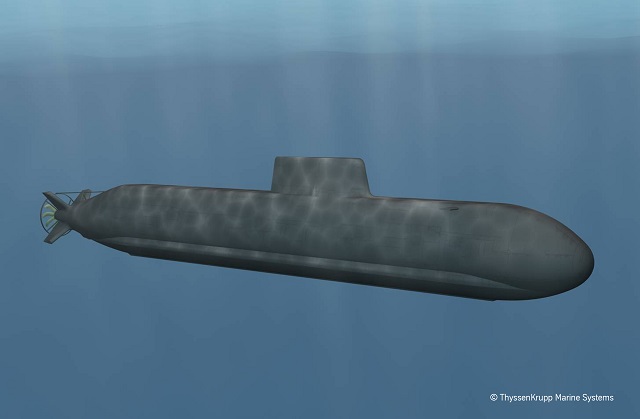 At Euronaval 2012, German Shipbuilder TKMS released information about a proposed conventional propulsion long-range submarine project, called Type-216. The Type 216 is designed specifically to meet the "larger conventional submarine" needs of countries like Australia, India and Canada.

The Type 216 is one of the competitors of the Royal Australian Navy's Collins-class submarine replacement project. Other competitors are, for now, the Japanese Soryu class and a diesel-electric variant of the Barracuda-class nuclear submarine under construction for the French Navy.
Variants:
Technical Data
Back to top
Design
Double hull design.
Type 216 is equipped with an air independent propulsion system, giving it the same kind of ability as a nuclear submarine: Staying underwater for weeks to reach crisis area, such as the Strait of Malacca. Like an SSN It would have the ability to launch cruise missiles, to deploy special forces with their underwater delivery vehicle and even unmanned underwater vehicles. The class is designed to be extremely quiet due to its propulsion system and through the use of sound absorbing coating on the hull.
Missions
» Anti-surface and anti-submarine warfare
» ISTAR (Intelligence, surveillance, target acquisition and reconnaissance)
» Land attack capability
» Special Forces operations
» Deployment of unmanned vehicles
» Mine operations and mine reconnaissance
Features
» High crew comfort standard due to enlarged accommodation, recreation area and utility rooms
» Sewage and waste treatment to fufil future environmental regulations
» Stealth characteristics:
__- AIP system for submerged condition lasting for weeks (fuel cell and methanol reformer)
__- Degaussing system
__- Highest acoustic requirements for silent operations
__- Target strength optimised shaping and coating
» Combat information centre with seven multifunctional control consoles
» Sail with nine hoistable masts
» Sensor layout for best performance (acoustic, optic, electronic support measures, communication & nav.)
» Future-oriented flexible payload systems:
__- Up to three vertical multi-purpose locks with various modules (e.g. seven missile modules)
__- Various modules for mission-based equipment inside casing
__- Multi-purpose room for intra-mission flexibility and inter-mission modularity
__- Modular multi-purpose mast
Weapons
6x 533 mm torpedo tubes (to deploy torpedoes, anti-ship missiles or mines)

Flexible storage area for 18 reserve weapons
Weapon module for vertical multi-purpose lock (2.5 m diameter to deploy cruise missiles or UUV)
Swimmer Delivery Vehicle (SDV) to deploy special forces
Sensors, Electronics and Decoys
N/A
Propulsion
Propulsion motor: Permasyn motor
Diesel generators: 4x 12V 4000
Air independent propulsion: 4x PEM FC modules 120 kW and 2x Methanol reformer
Energy storage: Lithium ion battery
Specifications
Back to top
Type

Conventional Submarine (SSK)

Crew

34 (extra accomodations for 29)


Operators

None

Performance

Top Speed:
Cruising Range:
Mission Endurance:
AIP Endurance:


N/A
10,400 nm @ 10 kts
up to 80 days
approx. 4 weeks

Displacement

~4,000 tons

Engines

Diesel Electric with AIP

Builder

HDW - TKMS Howaldtswerke-Deutsche Werft GmbH

Dimensions

Length Overall:
Height Above Sail:
Hull Diameter:
Maximum Draft:

approx. 89m
approx. 15 m
approx. 8.1 m
approx. 6.6 m

Back to top
------------------------- FLASH NEWS -------------------------
The French Navy has released a video showing the first launch of an MdCN Naval Cruise Missile from a FREMM Frigate.