a
Naval Forces News - China
"Sanmenxia", first Type 056A ASW Corvette (Jiangdao class), commissioned in Chinese Navy (PLAN)
A commissioning, naming and flag-presenting ceremony of the new "Sanmenxia" corvette (locally designated guided missile frigate) of the Chinese Navy (PLAN) was held solemnly at a naval port in Zhoushan city, east China's Zheijang province, on November 13, 2014, marking that the warship is officially commissioned to the PLAN. "Sanmenxia" is the first Type 056A Corvette (Jiangdao class) contrary to some western media reports claiming another corvette of this type had already been commissioned (Zhuzhou, hull number 594 is actually not commissioned yet!).
Compared to
Type 056 Corvettes (Jiangdao class)
, the new Type 056A is fitted with a variable depth sonar (designated H/SJG-206 according to our Chinese sources). Type 056A are therefore specialized in anti-submarine warfare (ASW). To our knowledge, all other equipment, weapons and sensor systems remain the same between Type 056 and the new Type 056A dedicated for ASW roles including the hull mounted sonar and 2x Triple torpedo launchers 324mm.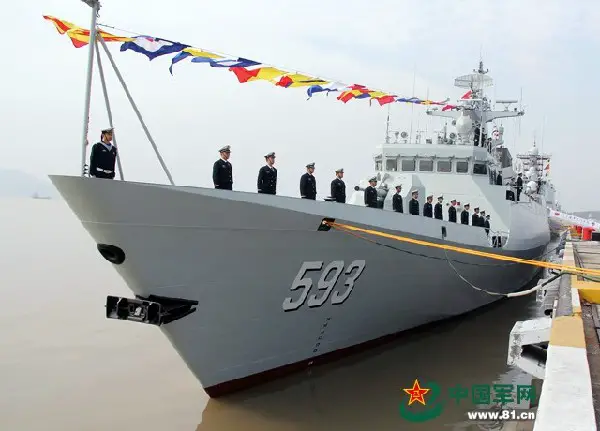 Type 056A Corvette "Sanmenxia" during the commissioning ceremony. It is the first Type 056A corvette of the class, dedicated for ASW missions.

According to Navy Recognition's Chinese sources, "Sanmenxia" (hull number 593) was launched in the water one year ago (on 20/11/2013). The second Type 056A (hull number 594, the future "Zhuzhou") was launched ten days later (on 30/11/2013). The commissioning of "Zhuzhou" should occur soon.
"Sanmenxia" is the 17th Type 056 corvette to be built and the 16th to be commissioned in the PLAN (actually the 8th corvette to be commissioned so far this year). It will serve in the PLAN's East Sea Fleet.
Of the 23 Type 056 launched in the water to date, 16 hulls are "regular" Type 056 corvettes (hull numbers in the order of their construction: 582, 596, 584, 580, 583, 597, 585, 581, 586, 587, 590, 589, 588, 592, 591, 595) and 7
are the ASW variant Type 056A
(hull numbers in the order of their construction: 593, 594, 501, 502, 503, 504 plus a seventh hull that has not number yet but which was launched on 11/10/2014).
Link to Type 056 Corvette (Jiangdao class) datasheet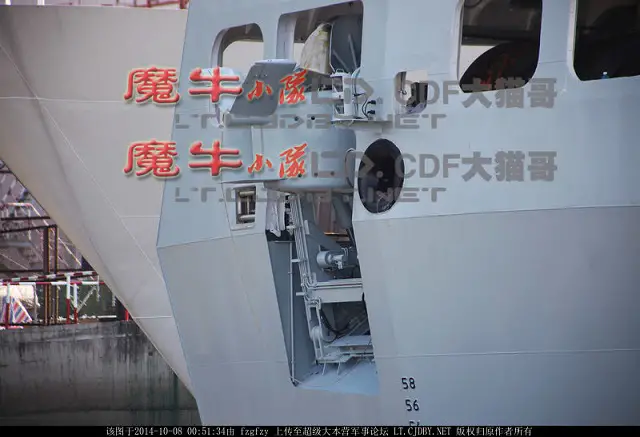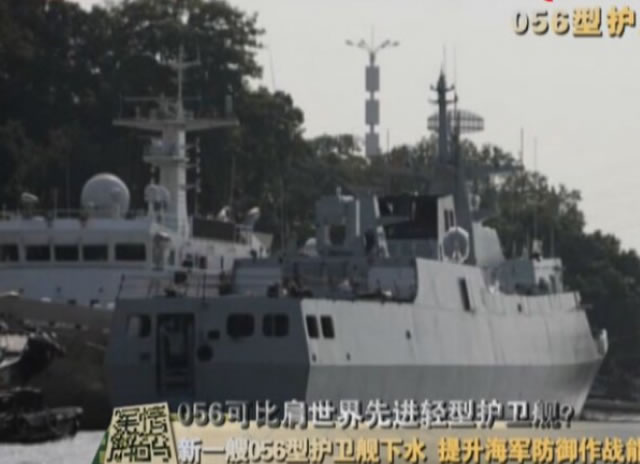 Detailed view of the H/SJG-206 variable depth sonar on a Type 056A corvette