a
Naval Defense Industry News - USA
Raytheon's SM-6 Surface-to-Air Missile moves from low-rate to full-rate production

Raytheon Company's Standard Missile-6 program has moved from low-rate to full-rate production, clearing the path for significantly increased production numbers and focus on further cost-reduction opportunities.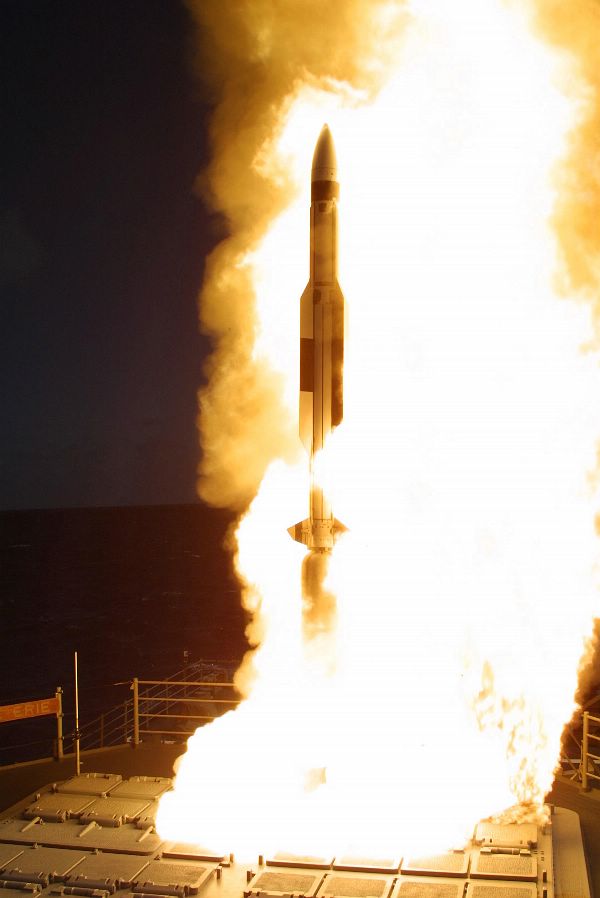 An SM-6 is launched from a Mk41 VLS. Picture: US Navy

SM-6 is a surface-to-air supersonic missile capable of successfully engaging manned and unmanned aerial vehicles and fixed- and rotary-wing aircraft. It also defends against land-attack and anti-ship cruise missiles in flight.

"SM-6 is proven against a broad range of advanced threats, which makes it very valuable to Combatant Commanders who need and want that flexibility," said Mike Campisi, Standard Missile-6 senior program director. "Full-rate production allows us to significantly ramp up production and deliver to the U.S. Navy the quantities it needs to further increase operational effectiveness."

The first full-rate production round was delivered to the U.S. Navy from Raytheon's state-of-the-art SM-6 and SM-3 all-up-round production facility at Redstone Arsenal in Huntsville, Ala. Prior to final assembly, a majority of the SM-6's section level assembly and testing development took place at Raytheon's subsystem center factory in Tucson, Ariz.

Raytheon has delivered more than 180 missiles to the U.S. Navy, which deployed SM-6 for the first time in December 2013.

About the Standard Missile-6
SM-6 delivers a proven over-the-horizon air defense capability by leveraging the time-tested advantages of the Standard Missile's airframe and propulsion
-- The SM-6 uses both active and semiactive guidance modes and advanced fuzing techniques.
-- It incorporates the advanced signal processing and guidance control capabilities from Raytheon's Advanced Medium-Range Air-to-Air Missile.