a
Naval Forces News - USA
US Navy Declares Initial Operational Capability for New Rolling Airframe Missile RAM Block 2

The U.S. Navy successfully achieved Initial Operational Capability (IOC) for the Block 2 Rolling Airframe Missile (RAM) aboard the amphibious transport dock ship
USS Arlington (LPD 24)
May 15. RAM is a highly successful, 39-year U.S. cooperative program with the German government that has yielded the U.S. taxpayer more than $800 million in cost avoidance and has delivered arguably one of the most capable anti-ship cruise missile defense systems in the world. The new RAM Block 2 missile is designed to counter advanced anti-ship cruise missile threats that U.S. and Allied Navies face today.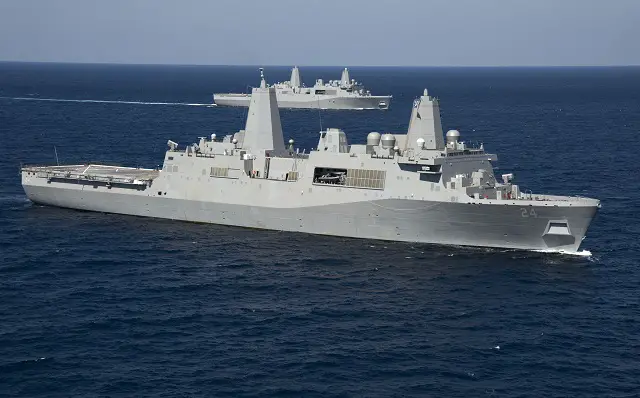 The amphibious transport dock USS Arlington (LPD 24), foreground, steams in formation with USS Anchorage (LPD 23), background. (Picture: Huntington Ingalls Industries)
"We're very excited about the significantly increased capability Block 2 gives our warfighters. It could not have been done without the outstanding cooperation between the U.S. and German governments," said Capt. Craig Bowden, RAM program manager. "This program has become the hallmark of transatlantic cooperation."

The IOC declaration is the culmination of cooperative developmental and operational testing events between the U.S. Navy and the German government spanning the last two years. Compared to previous configurations, Block 2 provides significantly improved kinematic performance in maneuverability and range as well as a more sophisticated radio frequency receiver. These improvements allow RAM to increase the battlespace and engage low probability of intercept threats at longer ranges.

Prior to the IOC declaration, the U.S. Navy and German government successfully demonstrated the enhanced ship self-defense effectiveness of the Block 2 RAM during testing at the Pacific Missile Range Center at Point Mugu, California, between May 2013 and March 2015.
The new RAM Block 2 missile is designed to counter advanced anti-ship cruise missile threats that U.S. and Allied Navies face today. (Picture: Raytheon)
Steven Holsworth, U.S. national deputy program manager for RAM, said, "Through cooperation, this program has continuously met all challenges and has successfully produced more than 3000 RAM missiles (Block 0, 1A, 2) and 200 launchers. The strength of the RAM community is also evident in the high success rate in our 450-plus live firing events in its history. The on-time, on-cost delivery of the first Block 2 missiles embodies the best of the U.S. and German design/production capabilities. With the completion of recent test events, we are ready to write the next chapter of the RAM success story by delivering the enhanced capability to the U.S., German, and allied warships on which RAM is deployed."

Andrea Schwarz, RAM deputy program manager from Germany concurred. "Since our inception in 1976, the U.S. and Germany have cooperatively developed, produced, and supported the RAM program through 16 international agreements/amendments. It is a testament to the program that both countries have remained steadfast in their commitment and cooperation, including 50/50 government contributions and industry work share. With the introduction of Block 2, we continue the cooperative spirit and technical excellence that has protected our Navies over the past three decades."

In 2014, the program had a highly successful test and evaluation run where it scored hits on several extremely challenging target sets. Currently, RAM protects the U.S Navy's CVN, LCS, LHA, LHD, LSD and LPD 17 class warships and twenty-two of Germany's warships.

About RAM

RAM is a supersonic, lightweight, quick reaction, fire-and-forget missile providing defense against anti-ship cruise missiles, helicopter and airborne threats, and hostile surface craft. The missile's autonomous dual-mode, passive radio frequency and infrared guidance design provide a high-firepower capability for engaging multiple threats simultaneously. RAM is installed, or planned for installation, aboard more than 170 ships as an integral self-defense weapon for the navies of Egypt, Germany, Greece, Japan, the Republic of Korea, Turkey, the United Arab Emirates and the United States.

The RAM Block 2 upgrade includes a four-axis independent control actuator system and an increase in rocket motor capability, increasing the missile's effective range and delivering a significant increase in maneuverability. The improved missile also incorporates an upgraded passive radio frequency seeker, a digital autopilot and engineering changes in selected infrared seeker components.