a
Naval Defense Industry News - France
HGH Supporting DSTL with Revolutionary, Mobile C2S Platform for Protection of Ships at Sea
International manufacturer of award-winning panoramic infrared thermal imaging systems, HGH Infrared Systems, have been selected by the British Navy to incorporate their Spynel-S 3500 into an integrated Compact Combat System (C2S) for situational awareness and ship-based protection against small fast inshore attack crafts (FIACs). The innovative system has already been tested in trials in the UK and will be used in part towards securing war ships in perilous locations.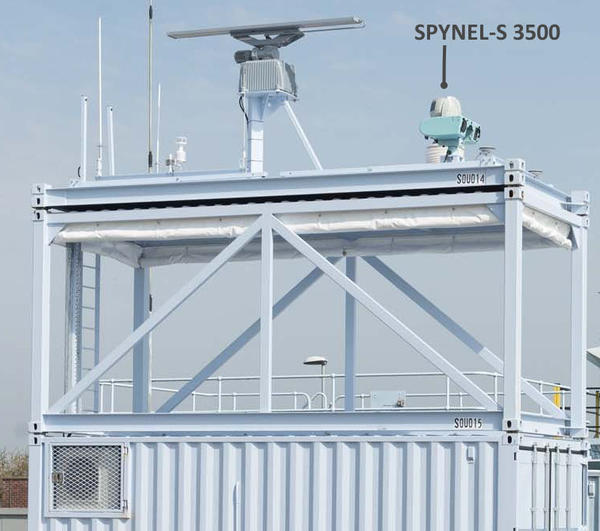 HGH's Spynel-S 3500 as seen above, top right on top of container, on the integrated, mobile C2S system from Qinetiq. Picture: HGH
Leading the project is UK-based Qinetiq, research and technology group, who have paired HGH's Spynel sensor alongside the SharpEye radar from Kelvin Hughes and a Chess Dynamics Sea Eagle providing electro-optical surveillance system, the innovative and modular design concept allows for a more mobile solution for afloat support ships or war ships. The Spynel-S 3500 provides the infrared search and track component in the C2S which is housed on a standard ISO container to complete the fully integrated system. The open architecture design allows the Spynel-S to cohesively work with a PTZ, radar and AIS.

Spynel is the ideal, all-weather solution for ship-based protection at sea or providing surveillance for ships docked at ports and has been previously deployed on French Navy war frigates for anti-piracy measures. With its constantly rotating sensor head, Spynel displays a full 360-degree panorama image with an impressive resolution of up to 120 Mpix. With its near real-time imagery captured by the proprietary Cyclope software, the Spynel detects and tracks an unlimited number of targets night and day, including: RHIBs, swimmers, wooden boats and larger ships. Built-in algorithms developed over a decade ensure that sea clutter-maritime life, waves, etc.-is eliminated.

With all its Spynel models, HGH has been pro-active in allowing for a smooth integration with other security systems already in place to provide a comprehensive surveillance system either on land or at sea.