a
Naval Forces News - Russia
Russian Navy to Receive Six Project 22350 Frigates of Gorshkov Class by 2025
A series of six
Project 22350
frigtates is expected to join the Russian Navy by 2025, Russian Defense Minister Sergei Shoigu said during a conference call on Wednesday.
"Six ships of this type are expected to join the Navy by 2025. They will be furnished with modern armament and advanced control systems,"
Shoigu said.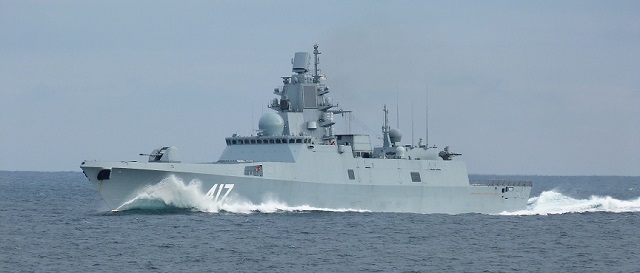 The first ship of the new Russian Navy frigate project 22350 class "Admiral Gorshkov" at full speed

The Project 22350 lead frigate Admiral Gorshkov is currently undergoing trials with Russia's Northern Fleet, the defense minister said.
Russian Navy Deputy Commander-in-Chief Vice-Admiral Alexander Fedotenkov said earlier that the Navy was planning to receive the new frigate in late 2016.
The Project 22350 frigate Admiral Gorshkov was laid down in early 2006 and put afloat in the autumn of 2010. The ship started undergoing trials in November 2014.
The second Project 22350 frigate Admiral Kasatonov was floated out in 2014.
The third frigate Admiral Golovko is expected to be put afloat in 2016.
© Copyright 2016 TASS. All rights reserved. This material may not be published, broadcast, rewritten or redistributed.


Link to
Admiral Gorshkov (Project 22350) Frigate technical datasheet