a
Sejong the Great class Destroyer - ROK Navy
also known as KDX-III, Sejongdaewang class AEGIS Destroyer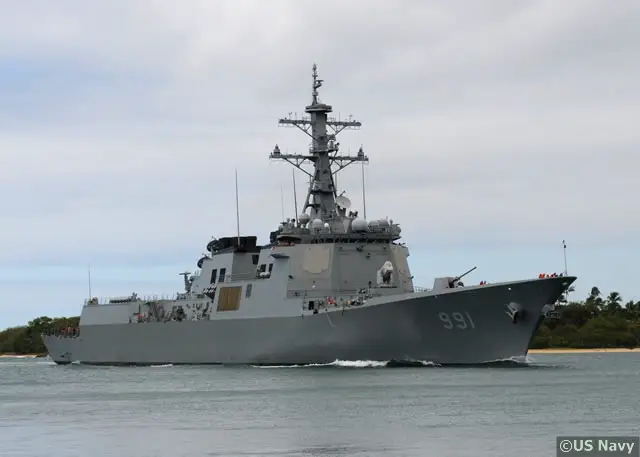 Partially designed by the South Korean Ministry of National Defense, built by Hyundai Heavy Industries and Daewoo Shipbuilding & Marine Engineering, the Sejong the Great class Destroyers are the largest surface combatants in the Republic of Korea Navy. The 3 vessels of the class were built as part of the KDX-III project to strengthen ROK Navy defense against North Korea and other emerging threats as well as provide the ROK Navy with true blue water, ocean going capabilities.

The class revolves around the Lockheed Martin AEGIS system. Aegis Weapon System is the combination of a radar and weapon system capable of simultaneous warfare against air, ballistic missile, surface. The Aegis Weapon System is a seamlessly integrated radar and missile system capable of simultaneous operation defending against advanced air, surface and subsurface threats. A key component of the Aegis Weapon System is the SPY-1 multi-function phased array radar. It is one of the world's most advanced and versatile maritime radar.

The Korean Aegis destroyer KDX-III Project is also fitted with Huneed Technologies' Data Link Processor System (DLPS). The DLPS connects Korean Aegis destroyer KDX-III to the existing Korean Naval Tactical Data System (KNTDS) allowing the smooth flow of various data and information, and will process in real-time all the data/information required during combat. KDX-III is additionally equipped with the Samsung Thales Naval Shield Integrated Combat Management System, apart from Aegis, to connect many non-American weapons and subsystems that are present on KDX-III.
Shiplist
| | | | | |
| --- | --- | --- | --- | --- |
| Name | Hull Number | Launched | Commissioned | Builder |
| ROKS Sejongdaewang | 991 | 05/2007 | 12/2008 | HHI |
| ROKS Yulgok Yi I | 992 | 11/2008 | 08/2010 | DSME |
| ROKS Seoae Yu Seong-ryong | 993 | 03/2011 | 08/2012 | HHI |
Variants
- The Sejongdaewang class is based on the US Arleigh Burke class Destroyer. It is however heavier and larger.


Technical Data
Back to top
Missions
» Anti-air warfare
» Anti-surface warfare
» Anti-submarine warfare
» Conduct accurate strike on enemy targets with the strike capacity of tactical target.
» Conduct the duties of MASOC(Maritime Air Support Operation Center) that control all tactical aircrafts that operates on the sea.
» Offer maritime area anti-air protection and air defense on mobile fleet and convoy fleet by early and remote detection and interception against enemy aircrafts and guided missiles.

Weapons
Guns:
» 1x BAE Systems 5"/62 caliber Mark 45 mod 4 (127 mm) main gun
» 1x Thales Goalkeeper 30 mm CIWS
Missiles:
A total of 128 Vertical Launch System (VLS) cells:
» 48x Mk41 VLS (forward) for Raytheon RIM-66 SM-2MR Block III surface-to-air missile
» 32x Mk41 VLS (stern) for Raytheon RIM-66 SM-2MR Block III surface-to-air missile
» 48x Doosan K-VLS (stern) for Hyunmoo III land attack cruise missiles and/or K-ASROC Red Shark torpedo
» 1x Raytheon Mk49 mod 3 Guided Missile Launcher (with 21x RIM-116 RAM Surface to Air missiles)
» 16x SSM-700K Hae Sung anti-ship missiles
Torpedoes:
» 2x Doosan KMK32 MOD5 triple torpedo launchers (for K745 LW Blue Shark torpedoes)
Sensors, Electronics, Decoys
Combat Management and Information Systems:
Aegis combat system (Baseline 7 Phase 1)
Samsung Thales Naval Shield Integrated Combat Management System
Optronics:
1x Sagem Vampir NG IRST
Radars and ESM:
1x Lockheed Martin AN/SPY-1D(V) multi-function radar
1x Raytheon AN/SPG-62 fire control radar
Sonars:
1x Atlas Elektronik DSQS-21BZ hull mounted sonar
1x MteQ (now STX Engine) TASS (Towed Array Sonar System)
Decoys/Counter measures/Jammers:
LIG Nex1 SLQ-200K Sonata EW suite and Jammers
Communications:
Link 11, 16
SATCOM
LIG Nex1 & Huneed Technologies JTDLS (Korean Joint Tactical Data Link System)
Huneed Technologies DLPS
Thales AN 453/N Naval TACAN System
Engines/Propulsion/Power
Propulsion type: COGAG (Combined gas turbine and gas turbine)
Engines: 4x GE LM2500
2x Propeller Shafts
Specifications
Back to top
Type

Guided Missile Destroyer (DDG)
Korean Aegis Destroyer


Crew

300 to 400 sailors

Operators

Republic of Korea Navy

Performance

Speeds: 30+ kts
Range: 5,500 nm @ 20 kts
Endurance: n/a days at sea

Designer / Builder

Hyundai Heavy Industries
Daewoo Shipbuilding & Marine Engineering

Displacement

11,000 tonnes (full load)

Aviation

Up to 2x Super Lynx Mk99 or SH-60 Seahawk

Dimensions

Length: 165.9 m
Beam: 21.4 m
Maximum Draft: 6.25 m


Back to top