a
Naval Industry News - Turkey
IDEF 2015: ADIK Shipyard unveiled a new LHD/LST concept
During the IDEF 2015 defense exhibition (held recently in Istanbul, Turkey) Turkish shipyard ADIK (Anadolu Shipyard) unveiled a fairly unique Landing Helicopter Dock (LHD) concept: The design has a flat top to accomodate several helicopters as well as a well deck like any LHD, but it is also uniquely fitted with a large door at its bow (similar to Russia's Ivan Gren class). This LHD design would therefore be able to perform beaching operations like a Landing Ship Tank (LST).

The new LHD concept on ADIK Shipyard stand during IDEF 2015
According to ADIK Shipyard, the new LHD has the following specifications:
Length: 153 meters
Beam: 29.60 meters
Full load displacement: 9500 tons
Speed: 18+ knots
Endurance: 30 days
Range: 5000 nautical miles
Power: 4x 3860 Kw
Personnel: 242 Ship crew + 360 Marines

Cargo Capacity:
4 to 6 helicopters
2 LCM in dock
4 LCVP
18 Main Battle Tanks or 60 Armored Personnel Carriers or 65 UNIMOG trucks

Two LCMs inside the LHD well deck
Based on the model, ADIK Shipyard's LHD is fitted with 2x Oto Melara
FAST FORTY
40mm turrets fitted at the bow, 2x Phalanx CIWS (located in front and behind the island) and 4x 12.7 mm remote weapon stations (possibly Aselsan STAMP).
There are four helicopter spots on the flat deck but no elevators (therefore no hangar space for helicopters in the hull). The LHD model at IDEF showed four CH-53 Heavy-lift cargo helicopters on board.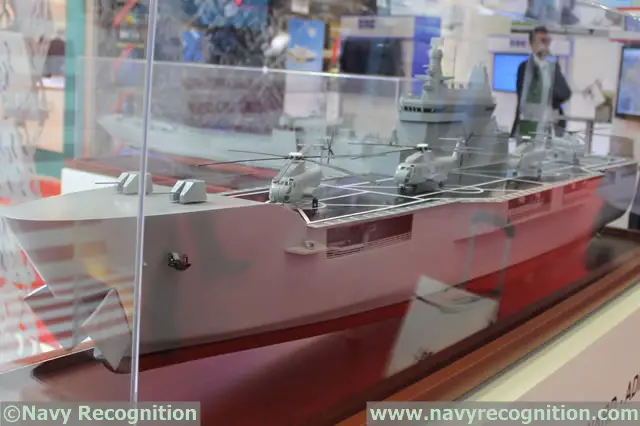 ADIK's LHD concept with a bow door for beach landing
ADIK shipyard is designer and builder of
1000 tons class LCTs
currently in service with the Turkish Navy.
ADIK also started constructing a
7000 tons LST
for the Turkish Navy